Nova Talk Respirator
The RPB® Nova talk™ system is a wireless communication system designed to improve the blasting experience, raise safety levels and further increase the productivity gains provided by the nova 2000™. NOVA TALK ™ enables contact with crew at all times making it ideal for tanks, shipyards, water towers and any sites where operators are out of sight or not easily accessed. NOVA TALK ™ can also be used to enhance operator training.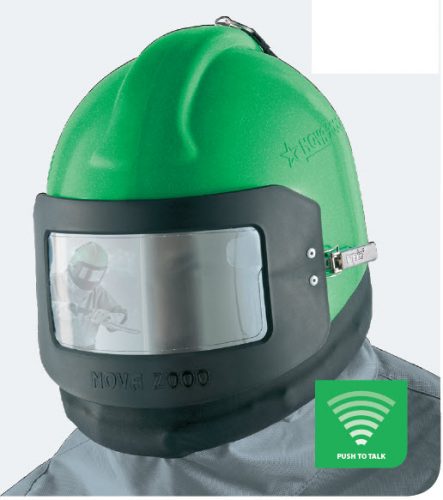 GREATER PRODUCTIVITY
The ability to communicate while blasting increases productivity and reduces down-time to a minimum.
ULTIMATE COMFORT
The NOVA TALK™ headset is encased in the pillow foam padding of the NOVA 2000™ so there is no change to the comfort that has made the NOVA 2000™ the World's number one.
COMPATIBILITY
The NOVA TALK™ System is compatible with most radio systems. Contact the RPB® customer service team on 1-866-494-4599 for a list of compatible radio models.
SAFETY
The NOVA TALK™ system conforms to UL STD 913: certified to CAN/CSA-C22.2 No. 157 Note: the system is only intrinsically safe when connected to an intrinsically safe radio handset*. Water Proof and Dust Tight. Sealed Cable Glands and Strain Reliefs.
"Fit And Save™" system boosts productivity
The NV2017 Tear off Lenses system is a unique "Fit And Save™" system of pre-folded tabs. This means workers can quickly tear off just one, layered, lens at a time. Contractors have reported a time saving of over 45 minutes a day per blaster using the RPB® "Fit And Save™" system, and a resulting increase in productivity.
Also available 09-900 upgrade kit, to upgrade your RPB® Nova 2000™ to a Nova Talk™.